NACHRICHTEN
Die Geschichte von Fizzle
Fizzle arrived here as a very confused baby of about 6 – 7 weeks old. He had been bought by a lady in Upington that thought she was buying a baby Ground squirrel, not a mongoose, and had fed him on a vegetarian diet. However, he took to insects in a flash and never looked back. He was a sunny personality and just loved people, especially children. He would go for walks with anyone that he saw walking and this sometimes led him into trouble because he got lost, once for almost a week. His favourite trick was to stand on his hindlegs on peoples' shoulders from which he would 'guard' against predators.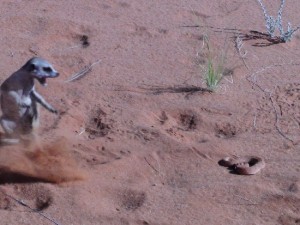 ---
Die Geschichte von Poppet
Poppet was found in an Upington suburb in October 2009, a tiny waif only about 5 weeks old. Once she was brought to Kalahari Trails and fed a natural diet of insects, she bloomed and soon became a great favourite with visitors; posing for photos, asking to be petted, climbing on their shoulders and accompanying them when I took them on walks and game drives.
She met Fizzle, the male I had raised the previous year and who had left to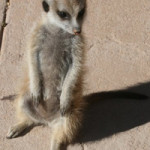 ---
Folgen Sie uns auf Facebook
.