MEERKAT NEWS
Meerkat Manor in the Kalahari – Part 2

Here is the next installment on the adventures of Kaspar and Kirri and the year is 2013.
10 January 2013 – Comments on Kaspar`s disappearance for 8 hours: "What`s the fuss about?? Can`t a chap go off on his own now and again? I`m not a kid any more, you know!" Kirri: What`s this I can smell on you? Cheap perfume? Shame on you, brother!
15 January 2013 – AHA!! Now we know why Kaspar disappears in the early morning and comes back hours later completely knackered ! He`s got a girlfriend!! Suprise Suprise! A little wild female that has been evicted from her group that hangs around waiting for him in the riverbed. Kirri, like Queen Victoria, IS NOT AMUSED!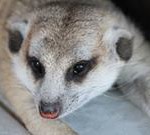 ---
Meerkat Manor in the Kalahari – Part 1

Here is the story of 2 baby meerkats (orphaned) and the people at Kalahari Trails (Anne Rasa and Andre) who adopted them.
23 March 2012 – I was brought 2 tiny baby meerkats by the bushmen 2 days ago that had found them in the veldt. Something must have happened to their mother.They were very traumatised for the first day but are now doing fine but are taking up nearly all my time. If I`m not there they scream"Baby Lost" at the tops of their voices, this is like a high-pitched yap that goes through your ears like a needle. I`ve finally got them feeding on insects and tiny pieces of meat but they need to be fed about every hour or so. The little male is a "mother`s boy" so I`ve called him Kaspar (after Kaspar Milquetoast the comedian) and the little girl I`ve called Kirri. A kirri is a walking stick used by the bushmen and, in Afrikaans, meerkats are called `stick-tailed meerkats` to distinguish them from `fan-tailed meerkats` the ground squirrels. So Kirri is a good name for a meerkat. I`ll be posting some photos soon, so watch this space.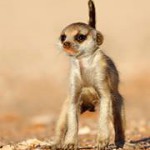 26 March 2012 – Little Kaspar says "Come play with me.
---
The story of Poppet's Babies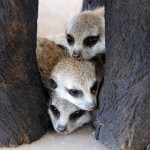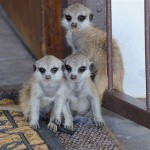 Poppet`s babies were born in the burrow complex behind my house on October 9th and first emerged from the burrows on November 2nd. Their eyes were hardly open yet and they staggered around on wobbly legs with their bodies pressed against each other, more like a single organism than 4 baby meerkats. Poppet brought three of them up to me about 3 days after they emerged, one, however, stayed in the burrow entrance. The ones following her took one look at me and dashed for cover, each baby to a different hideout. They were squalling the "baby lost" call and Poppet went to retrieve them, grabbing each of them by the scruff of the neck, on which they fell into a foetal curl called Tragestarre, and she dragged two of them back to the burrow entrance. The third disappeared under a pile of roofing tin. I saw one of the yellow mongooses, called Jumper, go in after the baby and chased him off but not before he had bitten off the tip of the baby`s tail. I showed Poppet where this baby was hiding and she retrieved it as well. It was a rather inauspicious start to their lives on the surface!
---