Our Meerkats
Earlier in 2015, Kalahari Trails Nature Reserve, near the Kgalagadi Transfrontier Park, was awarded Sanctuary status for meerkats by Northern Cape Nature Conservation. It is now the home of ten orphans, problem animals and those confiscated for cruelty which have been rehabilitated. At Kalahari Trails they are free to come and go as they like and to interact with the wild meerkats living on the Reserve and have formed their own breeding family group. The owner of Kalahari Trails, Prof. Anne Rasa, has been working with social mongoose species for 45 years and uses her expertise to calm and integrate new arrivals into the existing group and arranges for their veterinary treatment when this is necessary.
Each meerkat has its own distinct personality. Meet a few of them here: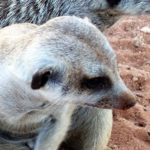 Footsitter: Footsitter came to us over a year ago as a confiscation, a tiny baby about 4 weeks old who was very sick. Once we got him well, he grew to be a handsome young chap, who now has delusions of grandeur about taking Zorro's spot as dominant male. He is definitely the father of one of Tigger's litters, so he's getting there!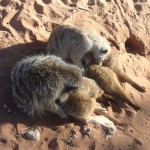 BELLA & TIGGER: Our two females. Tigger was found running down a road in Upington and Bella was another confiscation, both when they were tiny babies. Both got pregnant and gave birth on the same day and both care for and nurse the pups. Zorro was the father of Bella's pups but we don't know who Tigger was involved with – probably a wild male. She wants nothing to do with the other males in the group.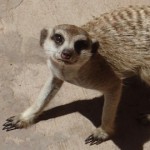 ZORRO: A wild male that came out of the veldt and attached himself to the group. After threatening and beating up the other males, he's now the dominant one and sticks close to Bella (the dominant female) and the free food.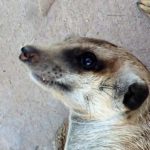 Big Douglas : Big Douglas was a tiny orphan sent here from Douglas, way in the south of the Northern Cape. He was also ill when he arrived but once cured, started slowly pushing his way to the top of the male rank order. He, Footsitter and Zorro now contend for Tigger's attention and we are sure that he was the father of her last litter.