ACCOMMODATION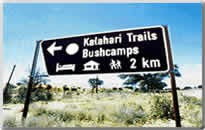 Kalahari Trails offers a wide range of accommodation at reasonable prices. The main guesthouse commands impressive views of the Nossob riverbed and the dune fields stretching to the horizon. It has a large verandah (stoep) where guests can sit in comfort and visitors are welcome to use the barbecue (braai) facilities.
To eat your meal on the stoep in the quiet of the desert night under the
stars is an unforgettable experience. For bird-watchers, there is a small waterhole in front of the house where flocks of desert birds come to drink every day. We also have a small botanical garden with typical plants found on the Reserve. For those chilly winter evenings there is a large, comfortable living room with a fireplace as well as a small dining area to seat twelve people. Kalahari Trails is set up for self-catering, but groups can be catered for if we are given notice of this at least ten days in advance.
There is a large communal kitchen which is fully equipped with everything necessary to keep and prepare your food (refrigerators, freezers, gas cookers, microwave oven, toaster, all cooking utensils, dishes, cutlery, glasses etc.). We also have a small shop selling basic foods, snacks, a wide array of soft drinks and beers meat and wood for barbecue (braai) fires.
We recommend that guests bring their fresh food (especially meat, fruit,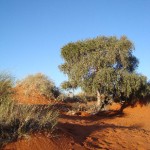 vegetables, bread etc.) with them because this is difficult to obtain in the desert. Upington has several supermarkets with a wide choice of available foodstuffs.
---
Main Guesthouse
The guesthouse has a large lounge (air conditioned), dining area, fully equipped kitchen and very large stoep in front as well as a lapa with braai area at the back.
Two large rooms with a double bed and one single bed in each with their own bathroom and toilet at:

Cost:
Double – R 700 per room a night.
Single – R 400 per night.
Two twin bed rooms with two bathrooms across the corridor at:

Cost:
Double – R 450 per room a night.
Single – R 350 per night.
One tripple bedroom with sharing bathroom at (One person):

Cost:
R500 per night for the room.
Single – R 350 per night.
---
Private Chalet
Situated 2km from the main guesthouse with 4 single beds in two separate rooms, fully equipped kitchen, shower and toilet, air-conditioned, stoep overlooking a birdbath and waterhole, braai facilities at R 1000 for 4 persons and R 800 for 2 persons, per night.
---
Camping Area
Duneside campsite with private covered camping sites, ablution block and kitchen area at:
Cost:
R 150 per person a night.
(Children under 10 free).
This campsite can easily accommodate fifteen to twenty persons.
---