Professor Anne Rasa, an ethologist, known for her extensive studies on the social behaviour of dwarf mongoose in Kenya's Taru Desert, and the author of the book, Mongoose watch: A family observed, was still in Bonn University and doing her research when she set her eyes on the Kalahari Trails farm. She wanted to buy the farm with all her heart but to no avail, each time she passed the farm she would make a stop and enquire about purchasing it, but the owner declined her offer each time, until 1997 when she finally got her wish and bought the farm. 
The farm was in a dilapidated state, and Richard, her son remembers them setting off to see the farm their mom had bought. They travelled along a dirt road back then and arrived at the farm all shook up from the drive. The main building was in total disrepair, and someone had even made a fire in the lounge instead of the fireplace. He remembers sleeping under the stars in their bakkie, while his mom and sister slept in the living room that night. 
Professor Anne Rasa continued her work at the Bonn University while the house was being renovated. in December 2000 she finally moved to the farm and started building the Kalahari Trails as it is known today. 
One day she was given an injured meerkat by a neighbour. With all her knowledge working with Dwarf Mongese, she took care of the meerkat, helped it heal and released it back into the wild. This was followed by another meerkat and another. It was not long before she was asked by the Northern Cape Authorities if she would be interested in being the Northern Cape Meerkat Sanctuary, of course she agreed, and the rest is history. Prof. Anne used her position to make a crusade about people having meerkats as pets, as most of the meerkats she received were abandoned pets, by people who thought buying baby meerkats was a great idea, and when they got bigger, disregarded them.
Prof. Anne turned Kalahari Trails into a haven for nature lovers to experience the Kalahari Desert in all its glory. She started guided talks on all the local flora and fauna, along with all her amazing conservation efforts.
Unfortunately, Professor Anne fell ill and passed on, on 15 November 2020.
The Kalahari Trails legacy continues as her son Richard Rasa- Phillips has completely taken over the reins, as he was managing the farm since his mom fell seriously ill earlier in 2020.
Richard had led a very interesting life up until he took over the reins at Kalahari Trails. Richard worked at the Corps of Royal Engineers for the British army, and eventually ended up as a studio manager for the film industry, for movies like
Assassins Creed
,
Dark Crystal
,
Cursed
and
Bridgerton
in the UK, and formed part of the film crew and was involved with the production of Jurassic Park, Fast and Furious 6, Sherlock Holmes, Harry Potter and even appeared in
Harry Potter 7 (2)
among others, where he resigned when he heard about his mom falling ill, and came to Kalahari Trails to assist. Talk about going from one extreme to the next. But he loves the quietness, fresh air and the beauty of the Kalahari. He has spent a lot of time here over the years with the Prof. and has always been passionate about the Kalahari, meerkats and nature in all its glory.
Richard's dream is to continue with his mom's legacy and continue creating a safe place where people can come to relax, enjoy nature apply mindfulness and walk in the Kalahari. There are not many places in the Kalahari that grant people the opportunity to enjoy the red dunes and learn more about the small critters that make the dunes their home. When you're on a game drive or driving in a park, you miss out on so many amazing things that you will not see unless you are walking. 
Richard would love to share "being at one with nature" with as many people as he can.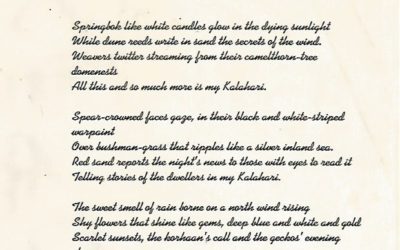 "My Kalahari" Whilst going through my mother's stuff, I came across this poem. There is no signature, no handwriting, so I do not know who wrote it. There was no hit on the internet either. However, it was so apt and fitting to explain why my mother loved the Kalahari...