Here is the story of 2 baby meerkats (orphaned) and the people at Kalahari Trails (Anne Rasa and Andre) who adopted them.
23 March 2012 – I was brought 2 tiny baby meerkats by the bushmen 2 days ago that had found them in the veldt. Something must have happened to their mother.They were very traumatised for the first day but are now doing fine but are taking up nearly all my time. If I`m not there they scream"Baby Lost" at the tops of their voices, this is like a high-pitched yap that goes through your ears like a needle. I`ve finally got them feeding on insects and tiny pieces of meat but they need to be fed about every hour or so. The little male is a "mother`s boy" so I`ve called him Kaspar (after Kaspar Milquetoast the comedian) and the little girl I`ve called Kirri. A kirri is a walking stick used by the bushmen and, in Afrikaans, meerkats are called `stick-tailed meerkats` to distinguish them from `fan-tailed meerkats` the ground squirrels. So Kirri is a good name for a meerkat. I`ll be posting some photos soon, so watch this space.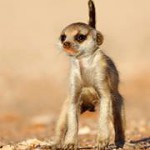 26 March 2012 – Little Kaspar says "Come play with me.
27 September – Kaspar fans will be glad to hear that he is now FINE! He is running around, digging and playing as if nothing had happened. He still has a hard lump on the inside of his back leg `ankle` where the break was, but, from experience, I know that will disappear in the next weeks. Meerkats are really tough little creatures!
And so ends 2012.